African Okro Soup-Quick & healthy. Oh so easy yet yummy! Okro Soup African style loaded with shrimp , oxtails with or without Egusi.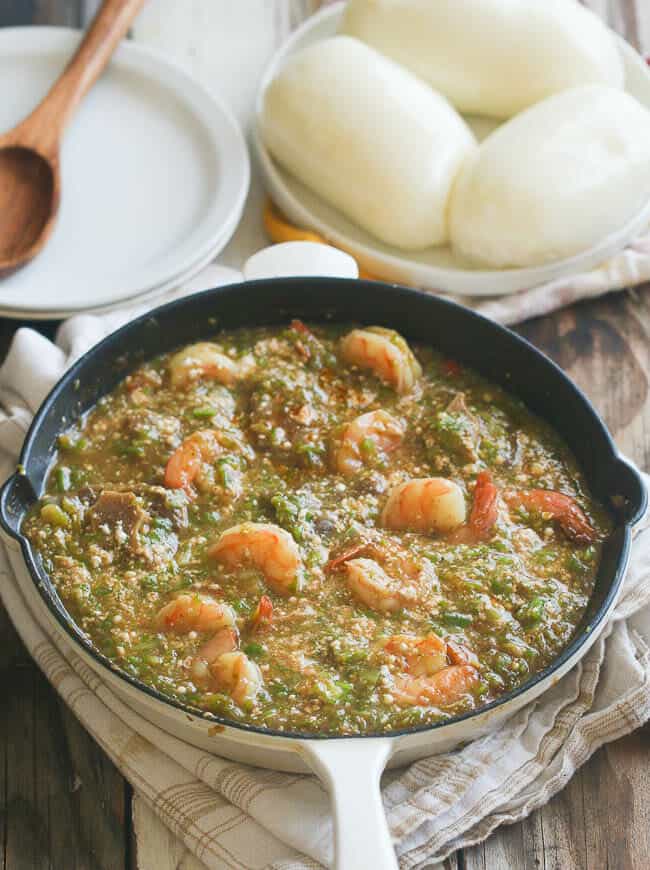 Growing up Okra Soup was on my list of reviled sauce; when okra soup was on the menu at home. I would often eat bread or  Garri, for sustenance, – Anything but  Okro!  I had such negative memories, they were hard to shake off. There was always an okro party, in the neighborhood and for me it was not a pretty sight. I could go on, but I know you get the gist.
Fast forward a few years, and guess what?  My taste buds have changed, I think improved and now I  happily indulge in all things okro.
In fact, it has become one of my go to meals because of its ease of preparation and  versatility. I can still be picky about texture from time to time (though, not nearly as much as I was when I was a kid).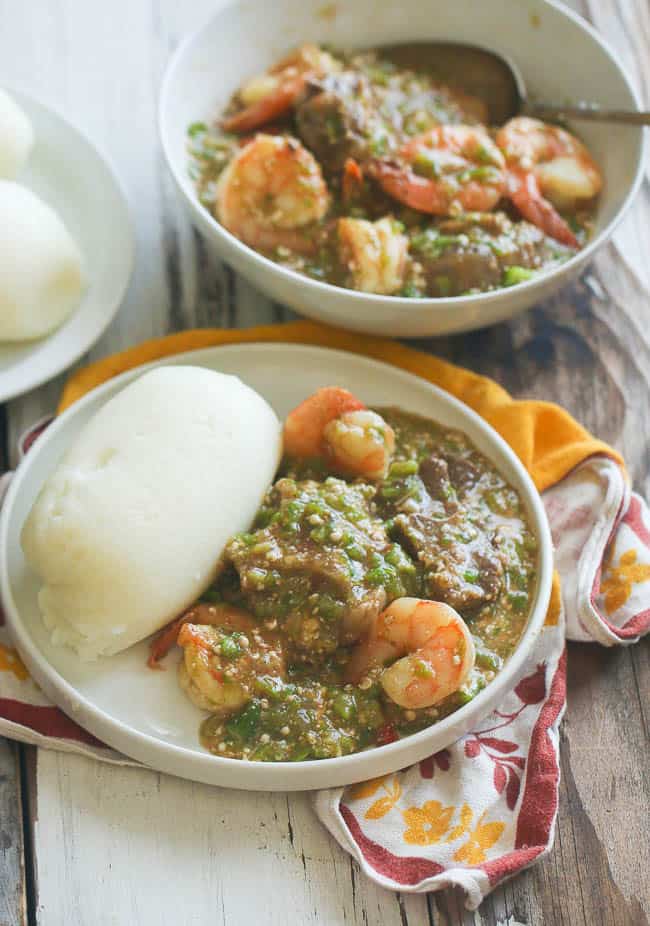 For the health conscious, okra is a rich source of dietary fiber, minerals, and vitamins and a low calorie vegetable. Known in  most West African Countries as Okro, and the French speaking countries as gumbo. While in the U.S it is referred  to as okra. So okra and okro are pretty much the same thing.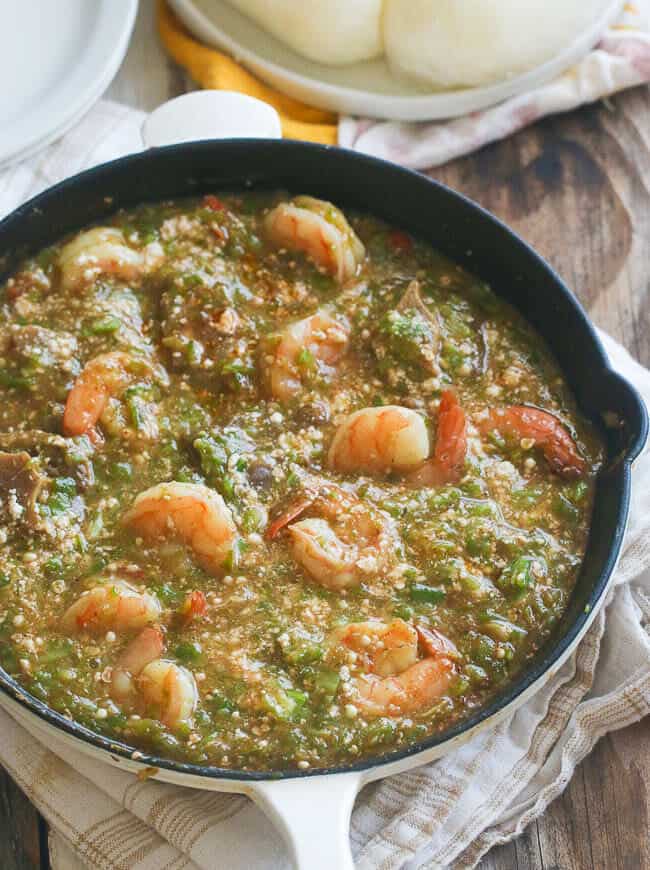 Here is a one of my healthier take on Okro soup. It  consists of okra, spinach, crayfish, meat, and egusi.
The texture of the egusi cuts the slipperiness of the okra and makes this dish a perfect  one for those who are leery of its consistency
I intentionally do not include oil in this soup okra because I want to fill up on it. – Oil contains a boat load of calories which does not add flavor or texture to this meal.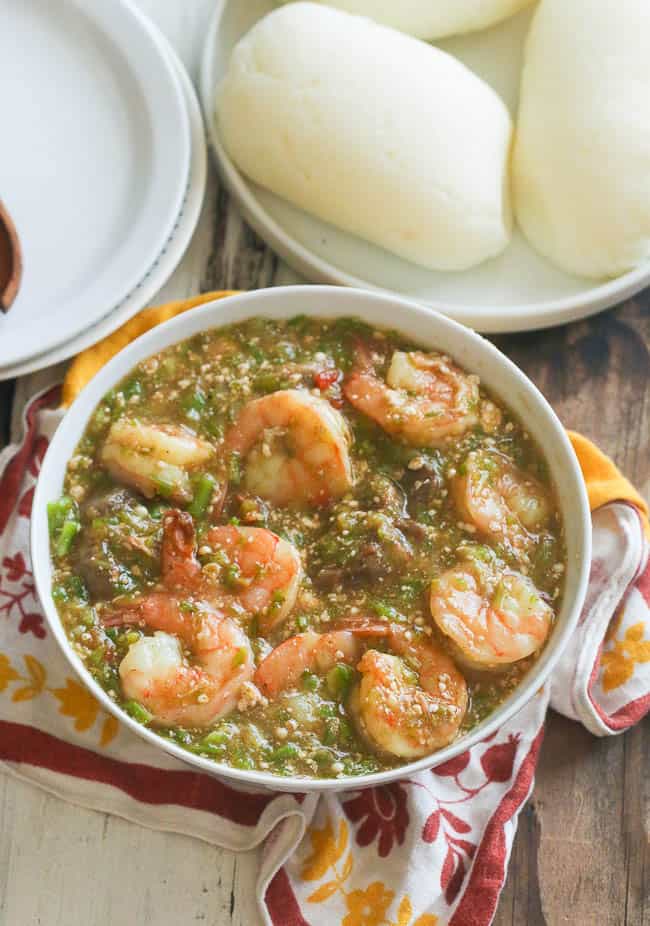 To To make it even healthier
Use very little or no egusi (pumpkin seeds)- You can easily purchase pumpkin seeds in most super markets . Use a coffee grinder to grind.
Use stew beef instead of oxtails . Oxtails are have more fat . But can't help but indulge – what I do to cut down on the fat is to  remove the thin layer of fatty oil that comes to the top of the oxtail stock. You can do this by using a spoon  or better yet boil the oxtail a day in advance, refrigerate, and  gently remove the layer of fat.
You can also  use dried or smoked fish. If  it is readily available. It's a luxury for me.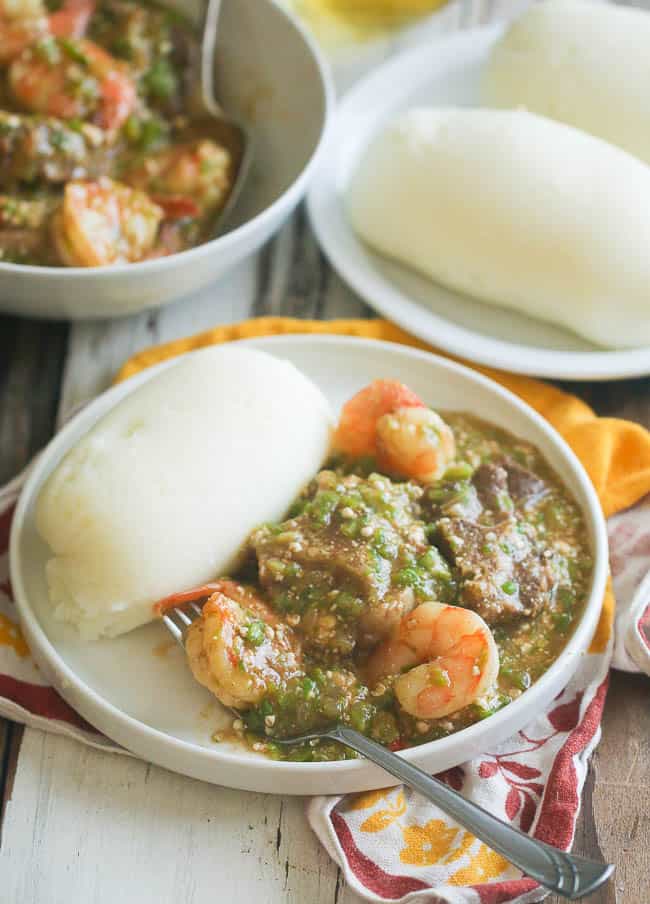 Crayfish  is optional in this recipe you can cook this soup without it too.
Serve okra soup hot, with  this Ugali or Corn  fufu here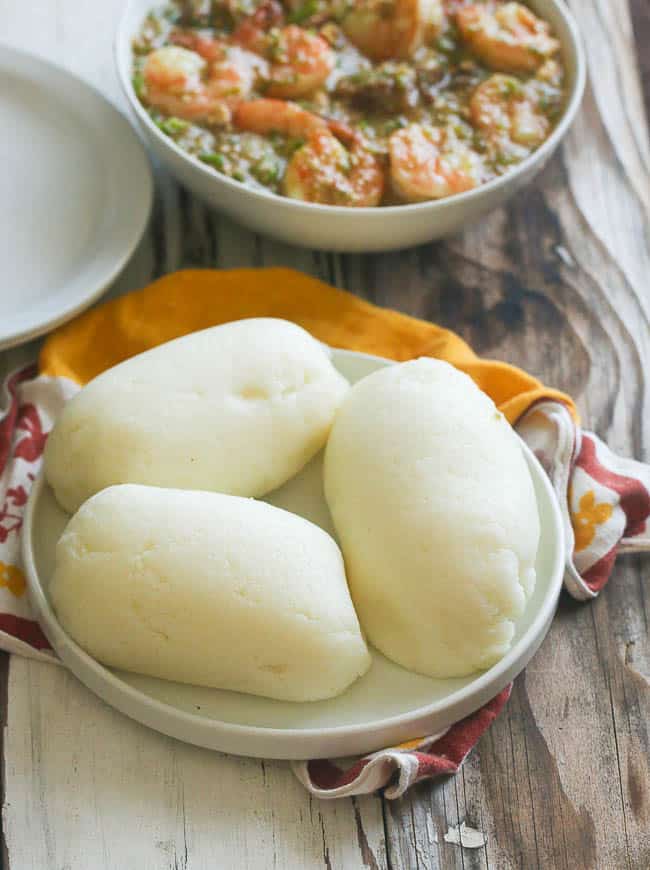 or rice.
Enjoy!!!!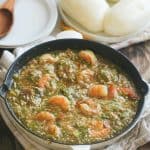 Okra Soup
Ingredients
One pound okra

 

fresh or frozen

½

 

pound

 

meat

 

oxtail

½

 

pound

 

Shrimp

½

 

cup

 

medium –sized Onions chopped

½

 

cup

 

ground Crayfish

1

 

tablespoon

 

Maggie

3

 

cups

 

of chopped Spinach

1

 

tablespoon

 

smoked paprika

1

 

tablespoon

 

red pepper flakes

½

 

cup

 

ground Egusi

 

optional

Salt and pepper to taste
Instructions
In medium –sized sauce pan boil oxtail seasoned with garlic salt, smoked paprika, pepper and onions until tender (approximately 30 -40 minutes). You can shorten this process in half by using a pressure cooker.

If using fresh okra wash the okra, remove the tops and tails, and slice into rounds.

Blend the okra to a coarse consistency in a food processor or you can finely chop the okra into coarse consistency using a sharp knife

Add the ground crayfish and egusi into the pan of boiled meat , cook for 5 minutes

Then add shrimp, cook for another 5 minutes and finally add the spinach and stir for about a minute or 2 .

Serve warm with Fufu( any kind)
Ingredients
Directions
Prep 15 m

Cook 1 h 20 m

Ready In 1 h 35 m
Place pumpkin seeds in a blender and blend for 30 to 40 seconds or until mixture is a powdery paste. Set aside.

Wash beef and cut into bite-size cubes. Season with salt. In large pot, heat oil over medium-high heat for 4 to 5 minutes. Add beef and saute for 3 to 5 minutes or until brown but not cooked through.

Place tomatoes, onions, and pepper in a blender and blend for about 30 seconds or until smooth. Add tomato mixture to meat, reduce heat to medium-low, and cover. Cook for 40 to 50 minutes or until meat is tender.

Add tomato sauce, water, and shrimp and simmer for 10 minutes.

Add spinach and ground pumpkin seeds and continue to simmer 10 minutes more.
Zimbabwean Chicken and Vegetable Soup
Ingredients
Directions
Prep 30 m

Cook 1 h 30 m

Ready In 2 h
Heat the olive oil over medium heat in a large soup pot; cook and stir the onion in the hot oil until translucent, about 5 minutes. Whisk 1/2 cup of vegetable stock and the peanut butter into the onions until the mixture is smooth. Beat in remaining vegetable stock, diced tomatoes with their liquid, and crushed red pepper flakes; bring to a boil, reduce heat to medium low, and cook at a simmer for 30 minutes, stirring occasionally.

Stir in the cabbage, sweet potato, carrot, and turnip; simmer, stirring occasionally, until the vegetables are tender, about 30 more minutes. Stir in the okra and chicken and simmer until the okra is tender, about 30 additional minutes.
African Sweet Potato and Peanut Soup
Ingredients
Directions
Prep 20 m

Cook 55 m

Ready In 1 h 15 m
Heat the oil in a large saucepan over medium-high heat. Saute the onion 10 minutes, until lightly browned. Mix in the garlic, ginger, cumin, coriander, cinnamon, and cloves. Stir in the tomatoes, sweet potatoes, and carrot, and continue to cook and stir about 5 minutes.

Pour water into the saucepan, and season the mixture with salt. Bring to a boil, reduce heat, and simmer 30 minutes.

Remove the soup mixture from heat. In a food processor or blender, blend the soup and peanuts until almost smooth. Season with cayenne pepper. Return to the saucepan. Whisk in the peanut butter, and cook until heated through. Serve warm topped with fresh cilantro.