Chocolate buns with brioche
Ingredients :
– 180 ml whole milk
– 45 g caster sugar
– 1 tsp salt – 375 g flour
– 175 g butter
– 1 sachet of dry baker's yeast (8 g)
– 20 bars of dark chocolate
– 1 egg yolk + 1 tsp caster sugar + 1 teaspoon milk for gilding
Preparation :
Warm milk and stir yeast. Put the milk in the MAP vat with yeast, flour, butter and finally sugar and salt. Start the dough program.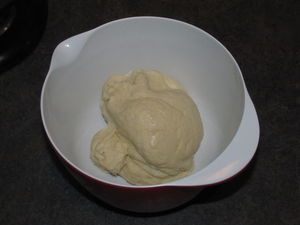 Once the program is finished. Allow the dough to rise.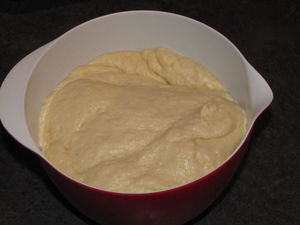 degas the dough and divide the dough piece in half. Spread the first ball on the worktop into a large rectangle 20 cm high and about 40 cm wide.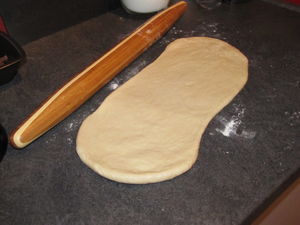 In this rectangle, cut strips 8 cm wide. Place at the top of each strip a first chocolate stick. Roll the dough on itself 2 times, then put down a second chocolate stick and finish winding the strip of dough.
Renew the operation with the second ball of dough.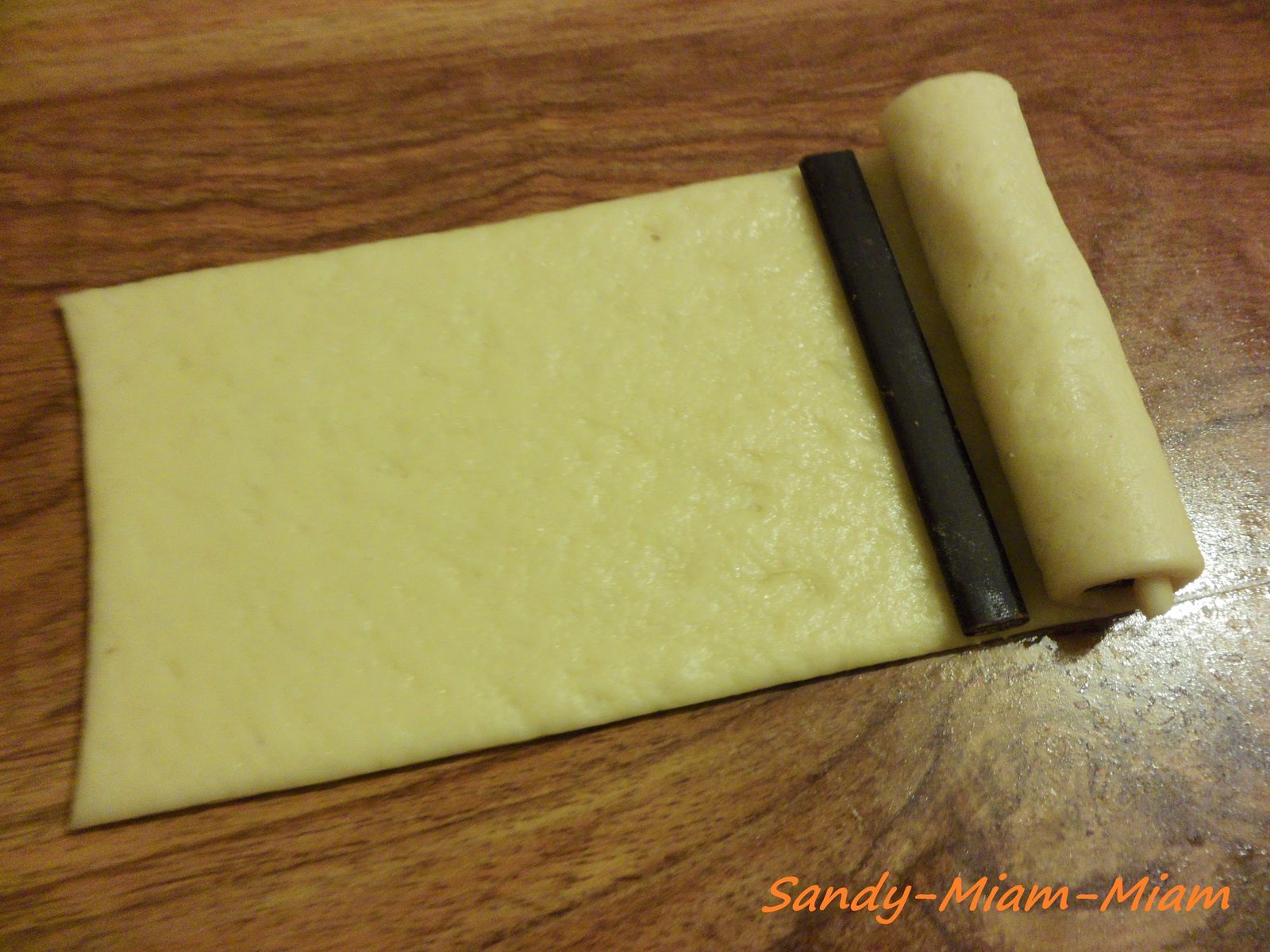 Chocolate buns with brioche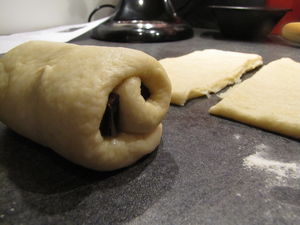 Place the buns underneath on a plate covered with baking paper, then leave to grow another 45 minutes at room temperature.
Preheat the oven to 200 °. Brown each bread with the beaten egg yolk with milk and sugar, then bake for 20 minutes.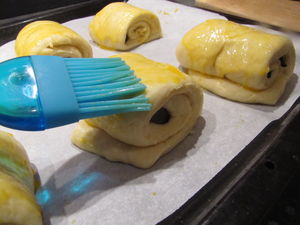 Put them to cool on a rack before tasting them, the same day preferably.
Ingredients
4.5 tablespoons of butter, softened
2 ripe bananas
2 eggs
2/3 cup of sugar
a pinch of salt
1 1/3 cup all-purpose flour
1/2 teaspoon baking soda
1/4 teaspoon baking powder
Method
Mash the bananas till it's smooth.
Whisk the eggs and set aside.
Mix all your dry ingredients except the sugar and set aside
Mix the butter, egg and sugar and cream it. Add the mashed bananas to this mixture and mix till smooth.
Pour the wet ingredients to the bowl of the dry ingredients and mix thoroughly till smooth incorporating air as you mix.
Pre-Heat the oven to 375F, grease the pan and pour in your mixture and place in the oven. It should take roughly 25-30 minutes to bake fully. To make sure it's ready, stick a toothpick in it and if the toothpick comes out clear you are good to go. Allow to cool for a bit and serve 🙂
P.S: If you would be adding walnuts, currants or chocolate chips, add it to the mixture before pouring it into the pan while you are incorporating air.
Ingredients
A Cup of Bean Flour
1 egg white
1/4 bulb of Onion
1 Scotch Bonnet Pepper
Half of a Seasoning cube
1/2 cup of water
1 Tablespoon of Vegetable Oil
For Egg White Omelette
3 Egg Whites
A handful of chopped Spring Onion
1 Tablespoon of chopped parsley
Half of Yellow Pepper
1/2 of Red Bell Pepper
Half of a bulb of Red Onion
1/2 of an Avocado
2 small Tomatoes
One Tablespoon of Vegetable Oil
1 Seasoning cube
1/2 teaspoon of black pepper
Method
In a bowl, mix your bean flour, blended onion and pepper, egg white, seasoning cube and water.
In a pan with heated oil, scoop the akara pancake mix into the pan and allow to brown on both sides.
Flip pancake on each side to make sure it cooks.
For the Egg White Omelette
Chop your vegetables and set aside.
Whisk your eggs, season with seasoning cube and black pepper and set aside.
Heat up your pan and stir fry the vegetables on medium heat for one minute.
Pour in your eggs and stir fry with the vegetables and allow the eggs to set.
Chop up your avocado and mix with your egg white omelette to serve with the akara pancake.
INGREDIENTS:
1½ cup Golden Cloud Flour
2 tbsp granulated sugar
1 tsp baking powder
½ tsp bicarbonate of soda
½ tsp salt
2 large eggs
1½c buttermilk
220 g ham
1 can KOO Fresh Garden Peas, rinsed and drained
4 tbsp unsalted butter
1 tbsp chopped fresh chives
KITCHEN GADGETS:
Large measuring cup or bowl, whisk, large non-stick pan
METHOD:
In a large measuring cup or bowl, whisk together the flour, sugar, baking powder, bicarb, and salt.
In a separate bowl, whisk together the eggs and buttermilk. Add the buttermilk mixture to the flour mixture and whisk until fully incorporated. Stir in the ham and peas.
Heat a large non-stick pan over medium-low heat. Check the heat by sprinkling the skillet with water – when the water bubbles and evaporates immediately, pour 3 x ¼ cups of batter into the pan.
Cook the pancakes until bubbles begin to appear around the edges and in the center, about 1 to 2 minutes. Using a spatula, peek under the pancakes to check if they are golden brown then carefully flip them.
Cook the pancakes 1 minute more, peeking to make sure the underside is golden brown. Transfer them to a baking sheet and cover loosely with foil to keep warm. Repeat with remaining batter.
In a small bowl, combine the butter and chives; serve with the pancakes.
Source : www.koo.co.za