Ndole ( Spinach/ Bitterleaves and Peanut Soup)
Ndole – An aromatic  Cameroonian Spinach  stew made spinach and bitter leaves – flavored with garlic , crayfish and fortified with shrimps and beef. Comfort at it's best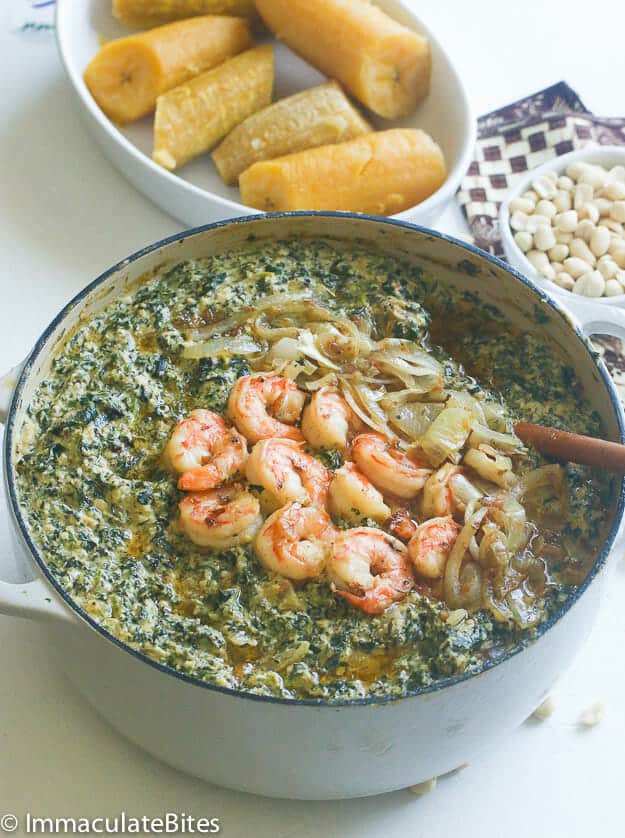 At the top of my favorite Cameroonian food is Ndole. Oh yes! A dish I learned to cook from my childhood friend , Lawrence , who is an amazing cook.
If you attend a Cameroonian party it is  always present and when cooked properly flies off the table.  You know why?
It is absolutely irresistible !!!
A combination of peanuts, bitter leaves ( substitute spinach), meat (stock fish, shrimp,) crayfish (dried shrimps) and oil.It tastes like stew spinach dip, but even better!  With aromatic spices and meat . Can be prepared in so many ways with more or less vegetables, meat depending on personal taste.
If I could eat this every day I would, It is rich, high in calories and loved by many. Often referred to as the national dish of my home country- Cameroon.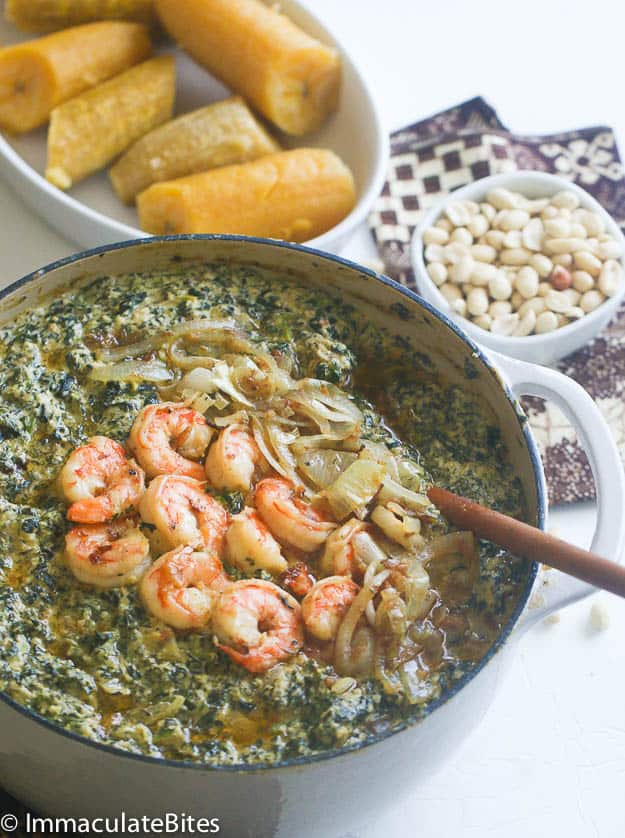 For my health conscious peeps; cut back on the the oil and peanuts. And go heavy on the spinach . If you are watching your waistline.
If using fresh spinach, wash the leaves well, rinse properly and then chop the spinach and blanch for 2 minutes. Frozen chopped spinach works just as well. If you can't get a hold of bitter leaves then by all means use spinach.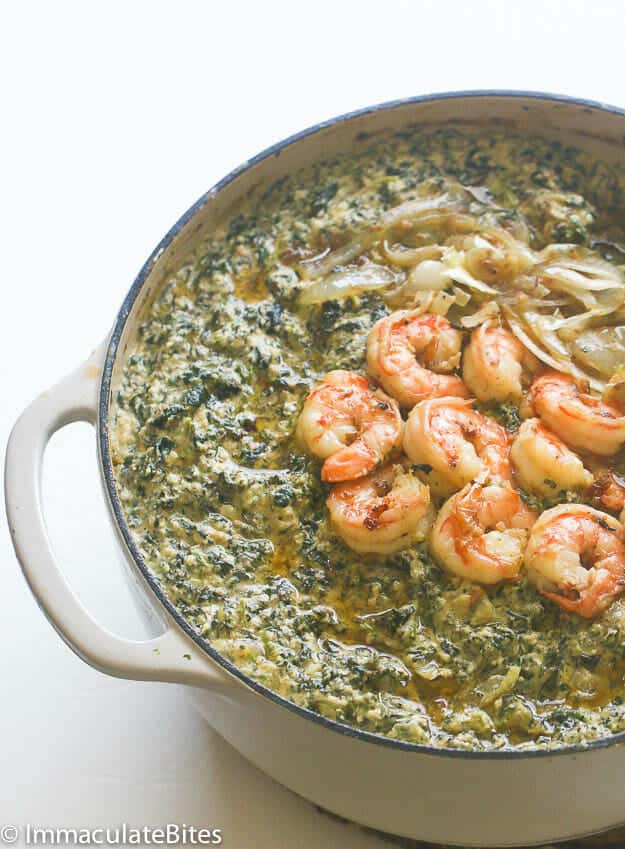 Bitter leaf is one of those is one of those vegetables that can be cultivated anywhere as oppose to certain vegetables that can only flourish with certain temperatures and places .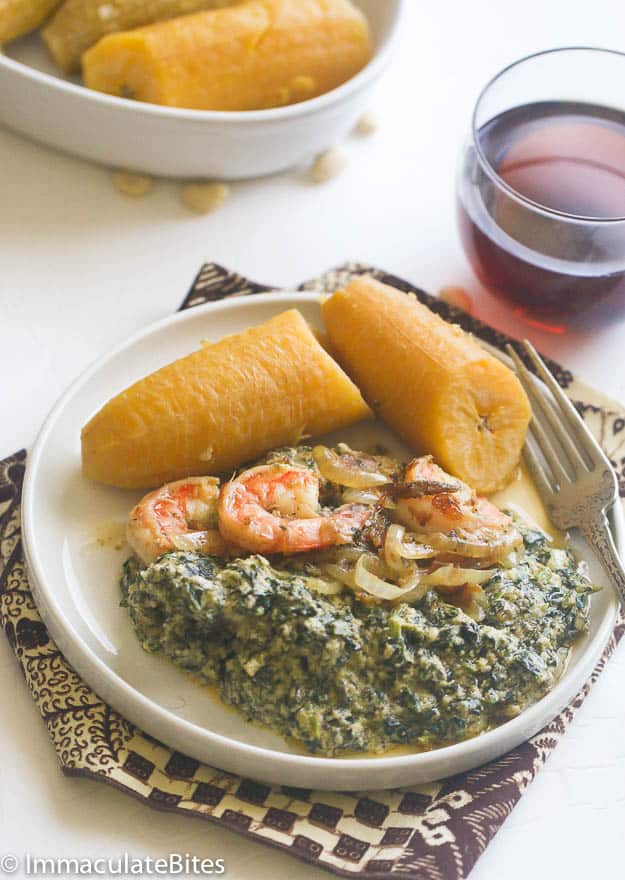 So if you are a gardener you can plant it and enjoy fresh bitter leaf anywhere you are. True to its name bitter leaf is very bitter. You have to wash it (rubbing the leaves together) thoroughly before cooking till most of the bitterness is gone. Using bicarbonate soda can also aid in this process.
Notes
If using dry bitter leaves soak overnight and cook for 15minutes using 1 teaspoon of bicarbonate soda .Rinse thoroughly and drain
You can use any combination of the meat . More or less according to preference
Dry Crayfish can be bought in African Stores and if you are lucky you can get some at hispanic or asian markets. It is still delicious without it.
Soak stockfish overnight to help tenderize the fish
This dish is best with its time-honored mate, Miondo/Bobolo( fermented cassava ) or how my niece calls it "bobolow" and is exciting in the company of Plantains(boiled or fried).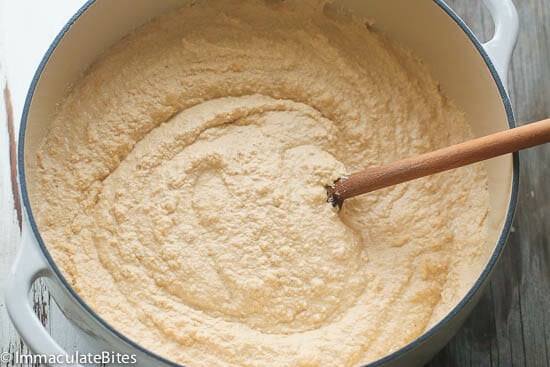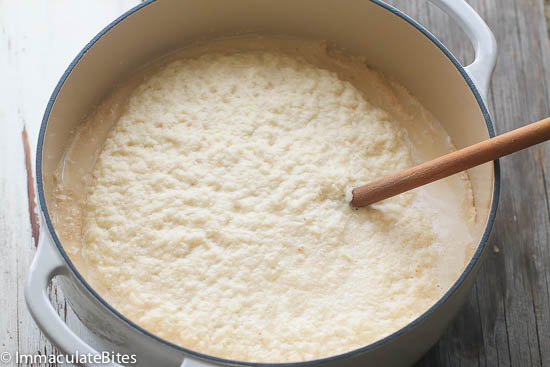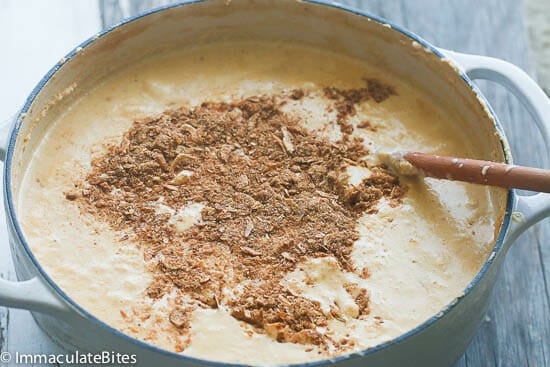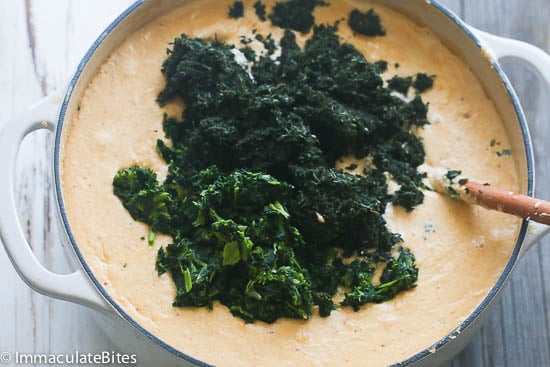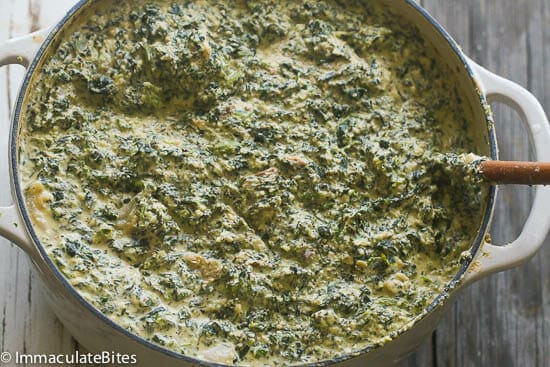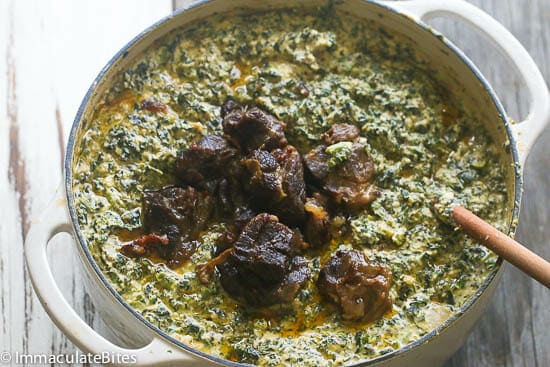 Nutrition Facts
Ndole ( Spinach/ Bitterleaves and Peanut Soup)
Amount Per Serving
Calories 668
Calories from Fat 423
% Daily Value*
Total Fat 47g72%
Cholesterol 214mg71%
Sodium 964mg40%
Potassium 1255mg36%
Total Carbohydrates 18g6%
Protein 47g94%
* Percent Daily Values are based on a 2000 calorie diet.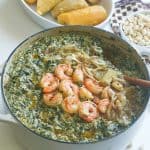 Ndole ( Spinach/ Bitterleaves and Peanut Soup)
Ingredients
8

 

oz

 

(1 cup) Groundnuts/Peanuts(Skinless)

1/2

 

pound

 

shrimp

1/2

 

pound

 

stockfish

1/2

 

pound

 

Beef

4

 

garlic cloves

1

 

large Onion

3/4

 

cup

 

Crayfish

 

(ground)

2

 

Tablespoons

 

Maggi

 

( Bouillon)

1

 

pound

 

Bitter leaves

 

(Spinach)

2-3

 

cups

 

oil
Instructions
In a large pan season meat with salt, maggi and onions and boil until tender depending on the choice of meat. Meanwhile, boil stock fish with salt and water; add it to the boiled meat. You should have about 3 cups of stock from the meat and stock fish. Reserve the rest or freeze it.

Boil peanuts for about 10 minutes in a sauce pan. Let it cool and blend/pulse in a food processor or blender into a fine consistency use water to facilitate the blending .Add to the mixture of beef and stockfish.

Blend one onion and garlic into a fine paste and add to the mixture of peanuts and meat.

Pour in the crayfish and let it simmer for 10 minutes stirring frequently to prevent burns. Season with salt and Maggi. You might have to add more later

Add the bitter leaves or spinach to the pot. Stir and simmer for several minutes more

While the pot of ndole is simmering, heat oil in a fry pan or, preferably a cast iron. Add the shrimp, stirring constantly until they just turn pink. Slice and add the remaining onions stir for a few more minutes.

Finally incorporate the mixture of shrimp, onions and oil into the pot of Ndole. Stir for a few minutes and serve hot with any of the sides mentioned above.
Ingredients
Directions
Prep 15 m

Cook 1 h 20 m

Ready In 1 h 35 m
Place pumpkin seeds in a blender and blend for 30 to 40 seconds or until mixture is a powdery paste. Set aside.

Wash beef and cut into bite-size cubes. Season with salt. In large pot, heat oil over medium-high heat for 4 to 5 minutes. Add beef and saute for 3 to 5 minutes or until brown but not cooked through.

Place tomatoes, onions, and pepper in a blender and blend for about 30 seconds or until smooth. Add tomato mixture to meat, reduce heat to medium-low, and cover. Cook for 40 to 50 minutes or until meat is tender.

Add tomato sauce, water, and shrimp and simmer for 10 minutes.

Add spinach and ground pumpkin seeds and continue to simmer 10 minutes more.
Zimbabwean Chicken and Vegetable Soup
Ingredients
Directions
Prep 30 m

Cook 1 h 30 m

Ready In 2 h
Heat the olive oil over medium heat in a large soup pot; cook and stir the onion in the hot oil until translucent, about 5 minutes. Whisk 1/2 cup of vegetable stock and the peanut butter into the onions until the mixture is smooth. Beat in remaining vegetable stock, diced tomatoes with their liquid, and crushed red pepper flakes; bring to a boil, reduce heat to medium low, and cook at a simmer for 30 minutes, stirring occasionally.

Stir in the cabbage, sweet potato, carrot, and turnip; simmer, stirring occasionally, until the vegetables are tender, about 30 more minutes. Stir in the okra and chicken and simmer until the okra is tender, about 30 additional minutes.
African Sweet Potato and Peanut Soup
Ingredients
Directions
Prep 20 m

Cook 55 m

Ready In 1 h 15 m
Heat the oil in a large saucepan over medium-high heat. Saute the onion 10 minutes, until lightly browned. Mix in the garlic, ginger, cumin, coriander, cinnamon, and cloves. Stir in the tomatoes, sweet potatoes, and carrot, and continue to cook and stir about 5 minutes.

Pour water into the saucepan, and season the mixture with salt. Bring to a boil, reduce heat, and simmer 30 minutes.

Remove the soup mixture from heat. In a food processor or blender, blend the soup and peanuts until almost smooth. Season with cayenne pepper. Return to the saucepan. Whisk in the peanut butter, and cook until heated through. Serve warm topped with fresh cilantro.