Ingredients
200g – Oats
1 tsp each of grated vegetables such as carrot, cabbage and capsicum
1 tsp – Ginger (finely chopped)
1 tsp – Green chillies (finely chopped)
2 tsp – Oil
1/2 tsp – Mustard seeds and urad dal for seasoning
1 sprig curry leaves
Salt to taste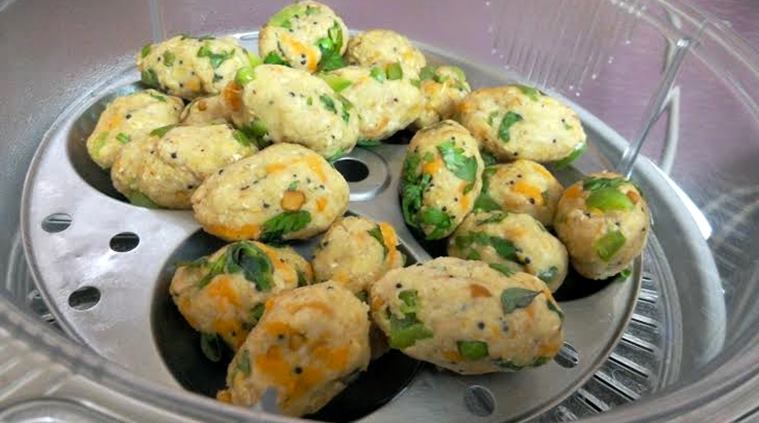 Oats kozhukattai
Method
* Dry roast the oats until they release a pleasant aroma. Grind in a mixer to a fine powder.
* Heat a pan with oil.
* Add the mustard seeds and urad dal.
*Add the curry leaves, chillies and ginger after the mustard seeds splutter.
* Add the grated vegetables and fry on a medium flame for about a minute.
* Add the oats and stir fry well.
* Add salt.
* Pour 2 cups of water and stir. The mixture will thicken within a few seconds.
* Switch off the stove once the mixture thickens and allow the mixture to cool.
* Grease your hand with a little oil and make small balls out of the mixture. Steam them for 15 minutes in a steamer.
* Serve hot with any chutney.
Source: indianexpress.com