Raisin and chocolate rolled brioche (gubana)
Ingredients
420 gunsalted butter, roughly chopped
665 gplain flour
1½ x 7 gyeast sachets
55 g(¼ cup) caster sugar
2eggs
250 ml(1 cup) milk, at room temperature
Raisin and chocolate filling
100 g(⅔ cup) raisins
60 mlmarsala (see Note)
75 g(⅓ cup) caster sugar
60 ghazelnuts
60 gwalnuts
40 g(¼ cup) pine nuts
40 gunsalted butter, softened
15 gcocoa powder
1orange, finely zested
1lemon, finely zested
1 tbspgrappa (see Note) (optional)
1 tspground cinnamon
¼ tspground cloves
¼ tspground nutmeg
100 gamaretti biscuits, crushed
40 gchocolate, roughly chopped
Instructions
Resting time 3 hours
Chilling time 4 hours 30 minutes
Place chopped butter on a lightly floured work surface, then scatter over 40 g flour. Using your fingertips, rub flour into butter until combined. Place butter mixture on a sheet of baking paper, shape into a 20 cm square, then top with another sheet of baking paper. Using a rolling pin, roll out until smooth and about 1 cm thick. Set aside in a cool place.
Place yeast, a pinch of sugar and 80ml warm water in a bowl, stir to combine and set aside in a warm, draught-free place for 5 minutes or until mixture bubbles. Place remaining 625 g flour and a pinch of salt in the bowl of an electric mixer fitted with a dough hook. Add yeast mixture, sugar, 1 egg and milk, and knead for 8 minutes or until dough is smooth and elastic. Place dough in a greased bowl and cover with plastic wrap. Set aside in a warm, draught-free place for 1 hour or until dough doubles in size.
Punch down dough and roll out on a lightly floured work surface to a 45 cm square. Place butter square in the centre on a 45 degree angle. Fold corners of dough into centre to form an envelope around butter. Roll out to a 25 cm x 60 cm rectangle, then fold one of the short edges into the centre and fold over the other short edge to cover. Wrap in plastic wrap and refrigerate for 30 minutes. Roll out with the shortest edge facing you, repeat folding, then refrigerate for at least 4 hours or overnight.
To make filling, soak raisins in marsala for 1 hour or until plump. Drain, then transfer raisins to a food processor with remaining ingredients, except amaretti and chocolate. Process to a coarse paste, transfer to a bowl and stir through amaretti and chocolate.
Grease a 26 cm cake pan and line base with baking paper. Roll out dough to a 50 cm x 40 cm rectangle, scatter with chocolate filling, leaving a 1cm border, and roll into a sausage. Coil dough in pan, cover with a tea-towel and set aside in a warm, draught-free place for 1 hour or until dough doubles in size.
Preheat oven to 180°C. Lightly beat remaining egg and brush top of dough. Bake for 1 hour or until golden. Cool in pan, then turn out onto a wire rack and serve warm or at room temperature.
Source : www.sbs.com.au
Plantain Omelette Ingredients
1 ripe plantain
2 eggs
1 frankfurter (Satis)
½ a tomato
½ an onion
½ teaspoon salt
2 tablespoons green peas
A few leaves leafy vegetables
Vegetable oil
Habanero pepper (optional)
More information about the ingredients
For best results, use ripe but firm plantains.
These leafy vegetables work well with this recipe: Ugu, Spinach and Scent leaves.
Before you prepare Plantain Pie
Peel and slice the plantain into thin discs (see video). Fry till golden and set aside.
Slice the onions, habanero pepper (if using it) and the leafy vegetables. Cut the frankfurter and tomato into small pieces. See the video to see how I cut mine.
Break the eggs, beat, add the salt and mix very well.
Directions
Fry the onions in a small quantity of vegetable oil for 1 minute.
Add the tomato, frankfurters and green peas and fry for 2 minutes.
Pour the result into the egg, add the sliced leaf vegetables and stir.
Heat a small quantity of vegetable oil and pour the egg mix from step 3 into the pan such that the mix is well spread out to cover the pan.
Reduce the heat to very low and once the edge of the omelette cakes, lay the fried plantains flat on the omelette to cover it.
Shake your frying pan from time to time and once the plantain omelette cakes all over, gently transfer it to a flat plate, see video.
Slice up like pizza and enjoy with other breakfast dishes.
Chorizo Breakfast Tacos with Potato Hash and Eggs
Ingredients
Directions
Prep 10 m

Cook 8 m

Ready In 18 m
Heat oil in a nonstick skillet over medium-high heat until shimmering. Add potatoes, onion, garlic powder, and onion powder to one side of the skillet and season with salt and pepper. Add chorizo sausage on the other side of the skillet and saute, breaking up with the back of a spoon, until browned, about 5 minutes. Turn over the potatoes after a couple of minutes so they get brown on both sides.

Combine eggs, milk, 1 tablespoon cilantro, salt, and pepper in a bowl. Reduce heat and pour egg mixture into the skillet. Stir eggs until they are very softly set, about 3 minutes. Remove from heat.

Spread out warmed tortillas and divide potato, chorizo, and egg mixture among them. Sprinkle with remaining 2 tablespoons cilantro. Top with Cheddar cheese and salsa.
Sweet Plantain Hash & Eggs
Hash Plantain and Eggs Casserole
Ingredients
1/3-

 

cup

 

vegetable oil or more

3 -4

 

large ripe plantains

2

 

cups

 

black beans

 

sub sausage

½

 

medium onion diced

1

 

teaspoons

 

smoked paprika

1

 

teaspoon

 

minced garlic

3

 

cups

 

diced tomatoes

 

14.5-ounce can diced tomatoes

½

 

tablespoon

 

smoked paprika

1

 

small bell Pepper diced

½

 

teaspoon

 

cumin

 

optional

Cayenne pepper

2

 

teaspoons

 

bouillon powder

 

optional

2

 

Tablespoons

 

parsley

Salt and pepper to taste

Cooking spray

3-4

 

Large Eggs
Instructions
Preheat Oven to 400 Degrees F

Using a sharp knife cut both ends off the plantain. This will make it easy to grab the skin of the plantains.

Slit a shallow line down the long seam of the plantain; peel only as deep as the peel.

Remove plantain peel by pulling it back. Dice plantains (medium to large dice or cut according to preference.

Frying Method

Heat up a large skillet or cast iron with oil up to ¼ inch- medium-high heat until hot but not smoking.

Fry the plantain in batches, turning once, until lightly brown, about 5 minutes. Do not overcrowd the pan (it will make the plantains to be soggy and absorb excess oil)

Use a slotted spoon, transfer the fried plantains and drain on paper towels.

Baking method

Spray a baking sheet and place plantains on them in a single layer; spray lightly over the plantains using the canola oil spray and bake at 400 degrees F, turning plantains frequently – for about 12 -20 minutes or till plantains turn slightly brown.

Plantain Hash

Next add about ¼ cup or more oil in a skillet followed by onions, garlic, cumin, smoked paprika, cayenne, sweat for about a minute.

Then add bell pepper, diced tomatoes, bring to a simmer, and add beans bouillon powder and cayenne pepper

Cook for about 7-10 minutes, stirring occasionally to prevent burning burn. Adjust for seasoning, and then sprinkle with parsley.

Crack about 3-4 eggs or more over the top of the hash in different spots. Add a little extra salt and pepper to the eggs if you wish. Place the skillet in the preheated oven on the top rack and bake at 400 degrees F or until the eggs are cooked to preference

Remove from oven, transfer to a plate and serve with more hash plantains, avocados and/or bread.
Sweet Plantain hash & eggs   – A delicious skillet breakfast Casserole that is brimming with flavor and packed full of protein!  Beans and eggs.  Make it for lunch and dinner too!  Great Anytime.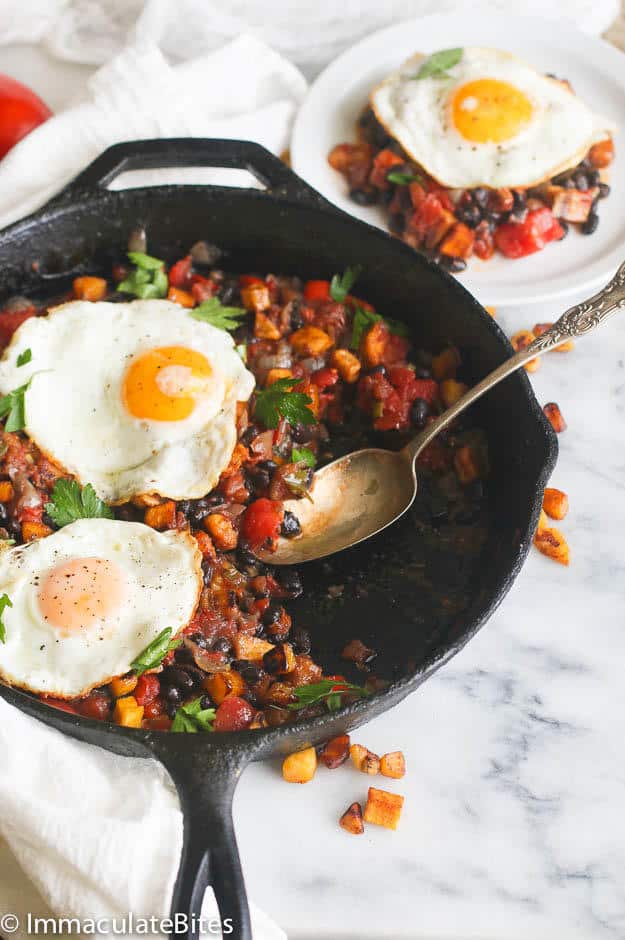 You know what? I just can't get out of my breakfast rut. I can count how many meals I make just using ONE hand alone.
Um.. Embarrassing, especially for a person who's always cooking.
Believe me, I have tried and it's hard to get out of a routine  when you are press for time.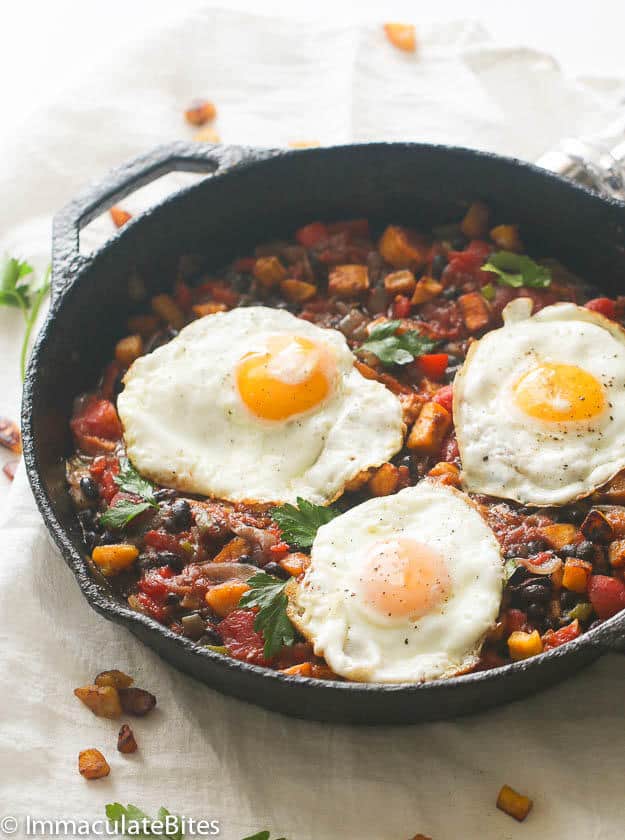 But tell you what; on the weekends it's another ball game – I   eagerly await-dreaming up new flavors to try out especially for breakfast.
It sets the tone for the rest of the weekend and keeps me in good spirits.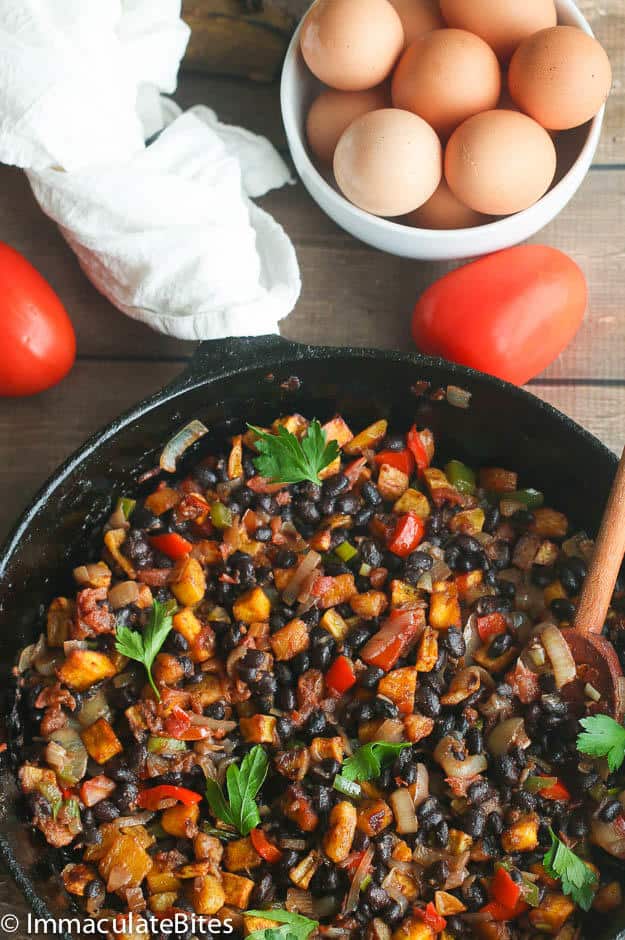 This here, is Hash plantain made with  beans, bell pepper (might I add, abundantly available this time of the year) tomatoes and other spice mix, then top with eggs.
The best part about this incredibly flavorful, hearty and filling, nutritious, paleo breakfast and is that is topped with fried eggs. And it's just visually appealing.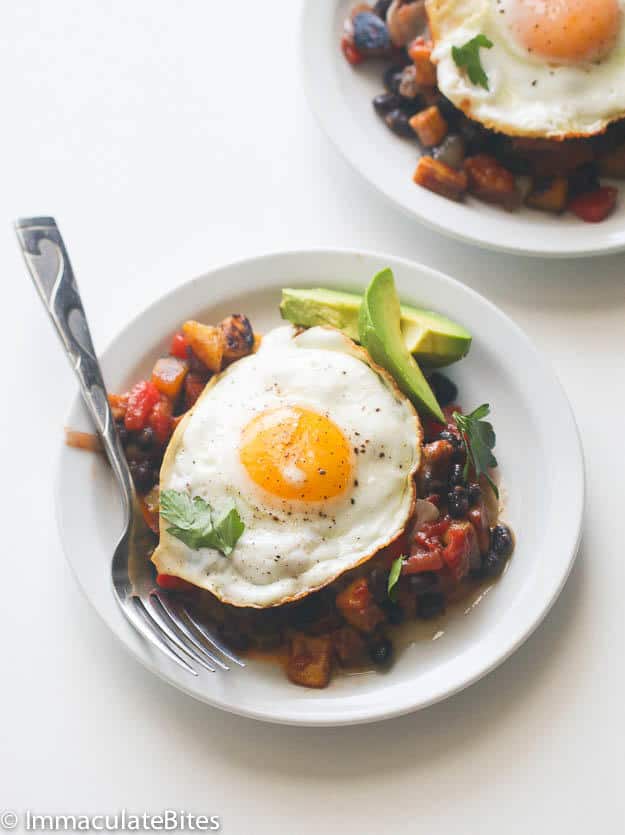 I enjoyed eating this plantain hash so much that I had it for lunch too! And then made another set for my brother to pick up.And he totally fell in love with it.
You can crack as many eggs into the pan as you want and cook them until they are cooked to your taste. Or just fry the eggs and place on top of the hash either way works beautifully.
Serve with extra plantains or bread and avocado and or hot sauce
Notes
With picking out plantains it is best to get plantains that are ripe, yellow with few black spots and firm, Not overly ripe (Dark skin) because it would end up too mushy. Unripe plantains are best when fried not suitable here.
Replace plantains with sweet potatoes if plantains not available
Omit the Eggs and make it completely Vegan
Enjoy!!!