Slow cooker north african couscous [vegan]
INGREDIENTS
FOR THE VEGETABLES:
2 cloves garlic, finely chopped
1 cauliflower, cut into florets
2 carrots, peeled and cut into large chunks
4 New Red, Yellow Fin or Yukon Gold potatoes, peeled and quartered
1 white onion, quartered
1 15.5-ounce can chickpeas, drained
2 tablespoons tomato paste
1/2 teaspoon hot sauce
4 cups water
1 tablespoon coconut oil
1 tablespoon ground turmeric
1/2 teaspoon ground cumin
1/2 teaspoon ground cinnamon
1 teaspoon sea salt
paprika for garnish
scallions for garnish
FOR THE COUSCOUS:
1 cup plain couscous
1 tablespoon vegan butter
1 1/2 cup vegetable broth
sea salt
PREPARATION
FOR THE VEGETABLES:
Mix the vegetables ingredients, except for the garnishes, in the slow cooker.
Turn on low for 8 hours.
FOR THE COUSCOUS:
Place the couscous in a heat proof bowl that will hold at least 3 cups.
Right before you are ready to serve, Heat the vegan butter and broth to a boil.
Pour over the couscous.
In about 5 minutes all of the liquid will be absorbed.
Serve the couscous and spoon the slow cooker veggies on top.
Sprinkle with paprika and scallion if you wish.
Place the extra liquid from the crock-pot in a bowl just in case someone wants more.
This dish does not freeze well because of the potatoes but it will keep in the fridge for four days.
The flavors meld nicely too.
The color of the couscous will become the color of your broth. Mine was homemade and a darker color but there are also some very pretty lighter vegetable broths.
Source: www.onegreenplanet.org
Veal and pearl onion b'stilla (north african meat and pie)
Ingredients
10 tbsp. unsalted butter, melted
3 tbsp. olive oil
1 lb. pearl onions, peeled
1 (2 3⁄4-lb.) veal shank, deboned and cut into 2-inch cubes
Kosher salt and freshly ground black pepper
1 tsp. ground allspice
1 tsp. freshly grated nutmeg
1 serrano chile, stemmed, seeded and finely choppped
4 cups veal or chicken stock
16 sheets phyllo dough (8 oz.)
Instructions
In a large heavy-bottomed saucepan, heat 2 tablespoons of the butter and the olive oil over medium. Add the onions and cook, stirring, until caramelized, 10 minutes. Using a slotted spoon, transfer the onions to a bowl and increase the heat to medium-high. Season the veal with salt and pepper and then add to the pot. Cook, turning, until browned on all sides, 12 minutes.
Stir in the allspice, nutmeg, and chile, and cook, stirring, until fragrant, 1 minute. Return the onions to the pot along with the stock and bring to a boil. Reduce the heat to low and cook, stirring occasionally, until the veal is tender, about 1 hour, 15 minutes. Remove from the heat and let cool. Roughly shred meat.
Heat the oven to 350°. Brush the inside of a 9-inch springform pan with some of the remaining 8 tablespoons butter. Line the bottom of the pan with 1 phyllo sheet, letting the excess hang over the sides, and then brush with melted butter. Repeat layering with 7 more phyllo sheets, brushing butter in between each layer and rotating the sheets one-quarter turn with each layer so they overlap in the pan.
Scrape the veal and onions into the pan and spread into an even layer. Fold the overhanging phyllo dough back over the veal and brush with more butter. Repeat layering the remaining 8 phyllo sheets on top of the filling, brushing butter in between each, and rotating the sheets 90 degrees with each layer so they overlap. Tuck the edges of the phyllo into the sides of the pan, and brush the top of the pie with butter.
Bake the b'stilla until golden brown, about 40 minutes. Transfer the b'stilla to a rack and let cool before serving.
Chorizo Breakfast Tacos with Potato Hash and Eggs
Ingredients
Directions
Prep 10 m

Cook 8 m

Ready In 18 m
Heat oil in a nonstick skillet over medium-high heat until shimmering. Add potatoes, onion, garlic powder, and onion powder to one side of the skillet and season with salt and pepper. Add chorizo sausage on the other side of the skillet and saute, breaking up with the back of a spoon, until browned, about 5 minutes. Turn over the potatoes after a couple of minutes so they get brown on both sides.

Combine eggs, milk, 1 tablespoon cilantro, salt, and pepper in a bowl. Reduce heat and pour egg mixture into the skillet. Stir eggs until they are very softly set, about 3 minutes. Remove from heat.

Spread out warmed tortillas and divide potato, chorizo, and egg mixture among them. Sprinkle with remaining 2 tablespoons cilantro. Top with Cheddar cheese and salsa.
Sweet Plantain Hash & Eggs
Hash Plantain and Eggs Casserole
Ingredients
1/3-

 

cup

 

vegetable oil or more

3 -4

 

large ripe plantains

2

 

cups

 

black beans

 

sub sausage

½

 

medium onion diced

1

 

teaspoons

 

smoked paprika

1

 

teaspoon

 

minced garlic

3

 

cups

 

diced tomatoes

 

14.5-ounce can diced tomatoes

½

 

tablespoon

 

smoked paprika

1

 

small bell Pepper diced

½

 

teaspoon

 

cumin

 

optional

Cayenne pepper

2

 

teaspoons

 

bouillon powder

 

optional

2

 

Tablespoons

 

parsley

Salt and pepper to taste

Cooking spray

3-4

 

Large Eggs
Instructions
Preheat Oven to 400 Degrees F

Using a sharp knife cut both ends off the plantain. This will make it easy to grab the skin of the plantains.

Slit a shallow line down the long seam of the plantain; peel only as deep as the peel.

Remove plantain peel by pulling it back. Dice plantains (medium to large dice or cut according to preference.

Frying Method

Heat up a large skillet or cast iron with oil up to ¼ inch- medium-high heat until hot but not smoking.

Fry the plantain in batches, turning once, until lightly brown, about 5 minutes. Do not overcrowd the pan (it will make the plantains to be soggy and absorb excess oil)

Use a slotted spoon, transfer the fried plantains and drain on paper towels.

Baking method

Spray a baking sheet and place plantains on them in a single layer; spray lightly over the plantains using the canola oil spray and bake at 400 degrees F, turning plantains frequently – for about 12 -20 minutes or till plantains turn slightly brown.

Plantain Hash

Next add about ¼ cup or more oil in a skillet followed by onions, garlic, cumin, smoked paprika, cayenne, sweat for about a minute.

Then add bell pepper, diced tomatoes, bring to a simmer, and add beans bouillon powder and cayenne pepper

Cook for about 7-10 minutes, stirring occasionally to prevent burning burn. Adjust for seasoning, and then sprinkle with parsley.

Crack about 3-4 eggs or more over the top of the hash in different spots. Add a little extra salt and pepper to the eggs if you wish. Place the skillet in the preheated oven on the top rack and bake at 400 degrees F or until the eggs are cooked to preference

Remove from oven, transfer to a plate and serve with more hash plantains, avocados and/or bread.
Sweet Plantain hash & eggs   – A delicious skillet breakfast Casserole that is brimming with flavor and packed full of protein!  Beans and eggs.  Make it for lunch and dinner too!  Great Anytime.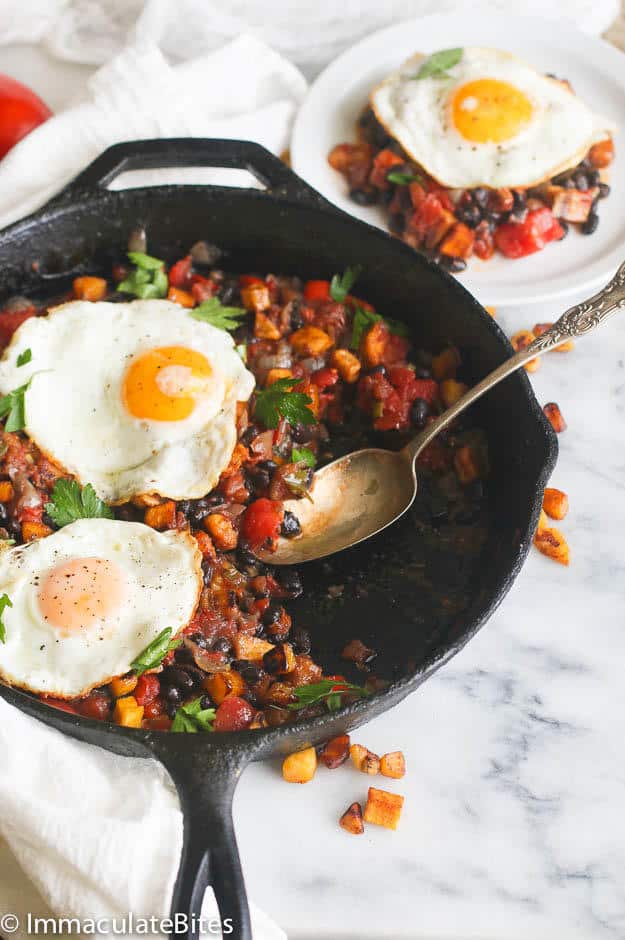 You know what? I just can't get out of my breakfast rut. I can count how many meals I make just using ONE hand alone.
Um.. Embarrassing, especially for a person who's always cooking.
Believe me, I have tried and it's hard to get out of a routine  when you are press for time.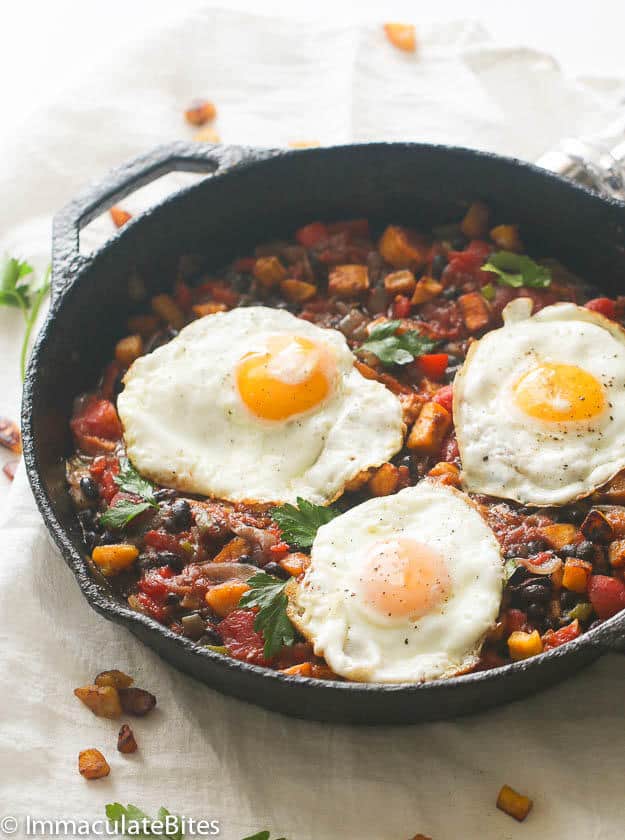 But tell you what; on the weekends it's another ball game – I   eagerly await-dreaming up new flavors to try out especially for breakfast.
It sets the tone for the rest of the weekend and keeps me in good spirits.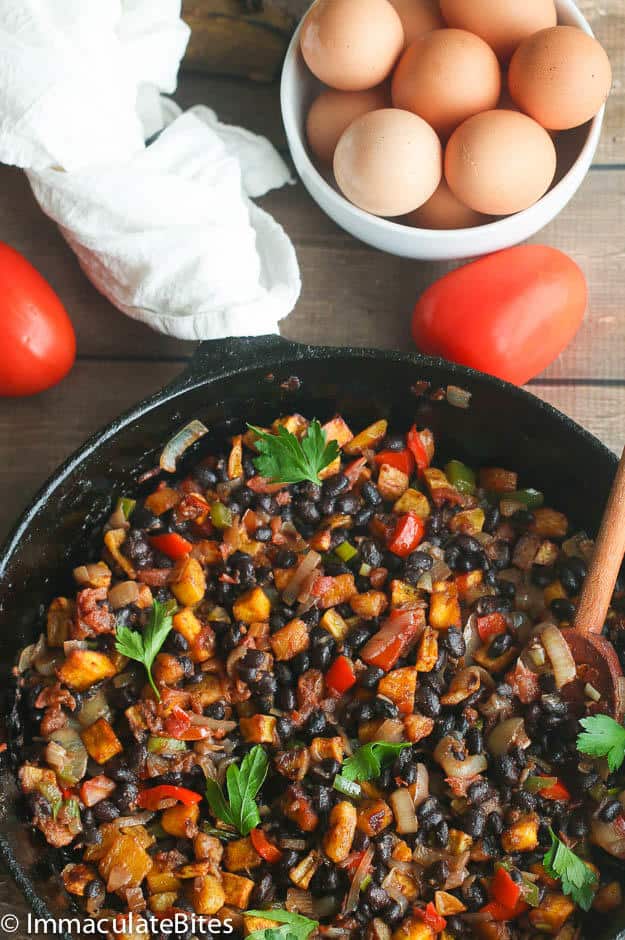 This here, is Hash plantain made with  beans, bell pepper (might I add, abundantly available this time of the year) tomatoes and other spice mix, then top with eggs.
The best part about this incredibly flavorful, hearty and filling, nutritious, paleo breakfast and is that is topped with fried eggs. And it's just visually appealing.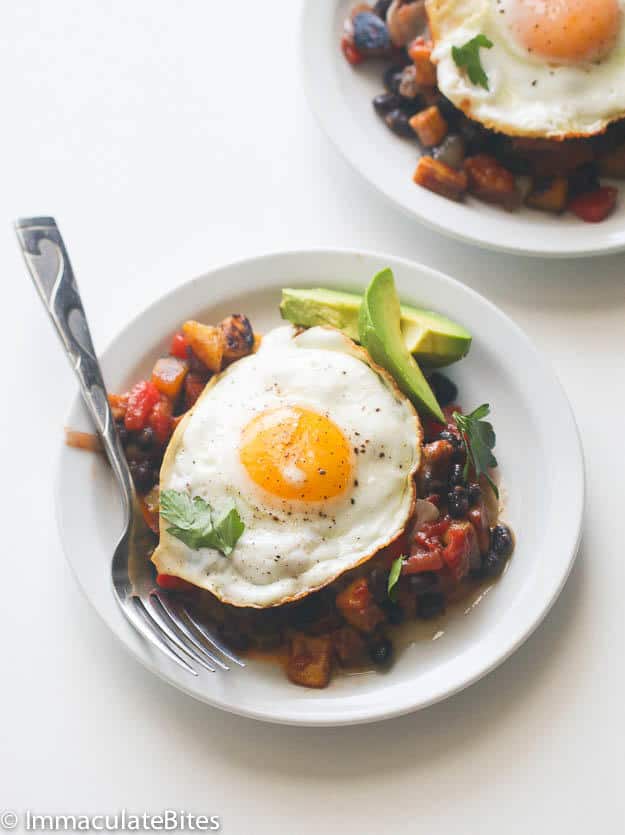 I enjoyed eating this plantain hash so much that I had it for lunch too! And then made another set for my brother to pick up.And he totally fell in love with it.
You can crack as many eggs into the pan as you want and cook them until they are cooked to your taste. Or just fry the eggs and place on top of the hash either way works beautifully.
Serve with extra plantains or bread and avocado and or hot sauce
Notes
With picking out plantains it is best to get plantains that are ripe, yellow with few black spots and firm, Not overly ripe (Dark skin) because it would end up too mushy. Unripe plantains are best when fried not suitable here.
Replace plantains with sweet potatoes if plantains not available
Omit the Eggs and make it completely Vegan
Enjoy!!!