Ingredients | Serving: 6 | Preparation Time: 60 minutes
4 cups of sliced fresh tomatoes.
Half cup of sliced fresh pepper.
1 cup of sliced onions.
3 cubes of maggi.
1KG of assorted meat.
200g of roasted fish.
A sachet of kitchen glory beef seasoning
one big bowl of sliced fluted pumpkin.
3 spoons of ground crayfish.
100ml of olive oil.
Salt to taste.
Assorted meat is a combination of different part of cow meats (liver, kidney, intestine, tripe, etc.)
Start by washing and slicing the tomatoes, I recommend you use really fresh tomatoes; also slice the pepper, onions and set them aside in a plate.
Wash the fluted pumpkin and slice to tiny bit, this is usually done by the seller if you patronize Nigerian local markets, it is best to properly wash the leaves before you slice them.
Parboil the meat with two cubes of maggi, beef seasoning spice (kitchen glory or any other), half cup of sliced onions, allow to simmer for 5 minutes, add a cup of water and cook for more 30 minutes. Add half teaspoon of salt and cook till the meat softens (this should take extra 10 minutes).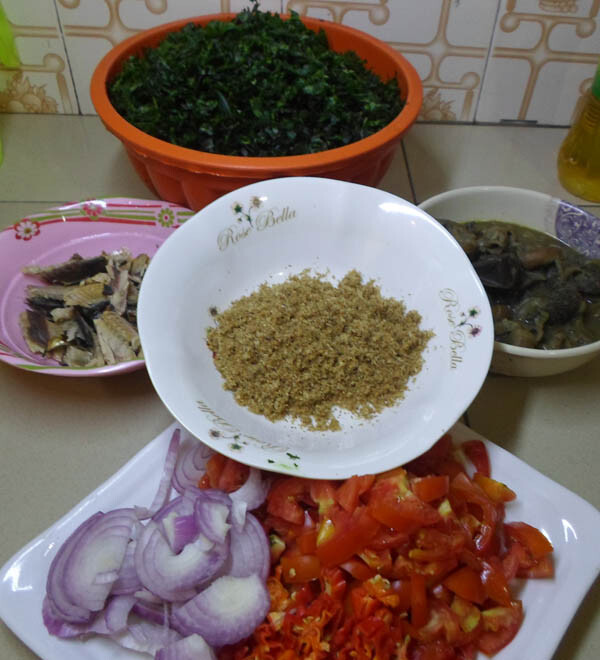 Set your cooking pot on heat, add 100ml of olive oil, allow to heat before adding the sliced tomato/pepper/onions. Allow to fry and dry for the next 10-15 minutes, remember to stir occasionally to avoid burning.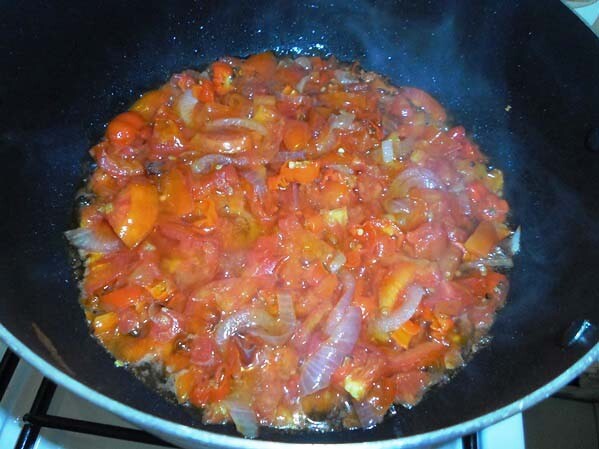 Add the cooked meat, remaining cube of maggi, roasted fish, salt to taste, crayfish and stir, allow to simmer on low heat for 3 minutes. Add the leaves (vegetables), stir properly and taste for salt, you may add another cube of maggi or knorr. Allow simmering on low heat for 3-4 minutes and you just made a delicious pot of vegetable sauce for rice.
Like I said earlier, this can be served with rice, beans or yam, I my case, I served with white boiled rice and added some fried plantain cubes.
Now My Comparative Analyses

Which do you really think is better, if you ask me, I would go for the vegetable sauce; not just because
it is easy to prepare, I find it very delicious and healthier than the alternative. Olive oil has also been proven to be healthier than groundnut/vegetable oil.
At some point, you will start knowing the different between this choices and how one differs from another. For me, it is not just about foods, they must be healthy too.
If you like, you can even omit the oil completely, just boil the meats, once it is soft, add the sliced tomatoes, pepper, onions to it, allow to cook together for 10-15 minutes, add the crayfish, roasted fish etc. As long as you are using fresh tomatoes, it would taste very nice.
Source: allnigerianfoods.com
Ingredients
Directions
Prep 15 m

Cook 1 h 20 m

Ready In 1 h 35 m
Place pumpkin seeds in a blender and blend for 30 to 40 seconds or until mixture is a powdery paste. Set aside.

Wash beef and cut into bite-size cubes. Season with salt. In large pot, heat oil over medium-high heat for 4 to 5 minutes. Add beef and saute for 3 to 5 minutes or until brown but not cooked through.

Place tomatoes, onions, and pepper in a blender and blend for about 30 seconds or until smooth. Add tomato mixture to meat, reduce heat to medium-low, and cover. Cook for 40 to 50 minutes or until meat is tender.

Add tomato sauce, water, and shrimp and simmer for 10 minutes.

Add spinach and ground pumpkin seeds and continue to simmer 10 minutes more.
Zimbabwean Chicken and Vegetable Soup
Ingredients
Directions
Prep 30 m

Cook 1 h 30 m

Ready In 2 h
Heat the olive oil over medium heat in a large soup pot; cook and stir the onion in the hot oil until translucent, about 5 minutes. Whisk 1/2 cup of vegetable stock and the peanut butter into the onions until the mixture is smooth. Beat in remaining vegetable stock, diced tomatoes with their liquid, and crushed red pepper flakes; bring to a boil, reduce heat to medium low, and cook at a simmer for 30 minutes, stirring occasionally.

Stir in the cabbage, sweet potato, carrot, and turnip; simmer, stirring occasionally, until the vegetables are tender, about 30 more minutes. Stir in the okra and chicken and simmer until the okra is tender, about 30 additional minutes.
African Sweet Potato and Peanut Soup
Ingredients
Directions
Prep 20 m

Cook 55 m

Ready In 1 h 15 m
Heat the oil in a large saucepan over medium-high heat. Saute the onion 10 minutes, until lightly browned. Mix in the garlic, ginger, cumin, coriander, cinnamon, and cloves. Stir in the tomatoes, sweet potatoes, and carrot, and continue to cook and stir about 5 minutes.

Pour water into the saucepan, and season the mixture with salt. Bring to a boil, reduce heat, and simmer 30 minutes.

Remove the soup mixture from heat. In a food processor or blender, blend the soup and peanuts until almost smooth. Season with cayenne pepper. Return to the saucepan. Whisk in the peanut butter, and cook until heated through. Serve warm topped with fresh cilantro.