Ingredients | Serving: 6 | Preparation Time: 60 minutes
4 cups of sliced fresh tomatoes.
Half cup of sliced fresh pepper.
1 cup of sliced onions.
3 cubes of maggi.
1KG of assorted meat.
200g of roasted fish.
A sachet of kitchen glory beef seasoning
one big bowl of sliced fluted pumpkin.
3 spoons of ground crayfish.
100ml of olive oil.
Salt to taste.
Assorted meat is a combination of different part of cow meats (liver, kidney, intestine, tripe, etc.)
Start by washing and slicing the tomatoes, I recommend you use really fresh tomatoes; also slice the pepper, onions and set them aside in a plate.
Wash the fluted pumpkin and slice to tiny bit, this is usually done by the seller if you patronize Nigerian local markets, it is best to properly wash the leaves before you slice them.
Parboil the meat with two cubes of maggi, beef seasoning spice (kitchen glory or any other), half cup of sliced onions, allow to simmer for 5 minutes, add a cup of water and cook for more 30 minutes. Add half teaspoon of salt and cook till the meat softens (this should take extra 10 minutes).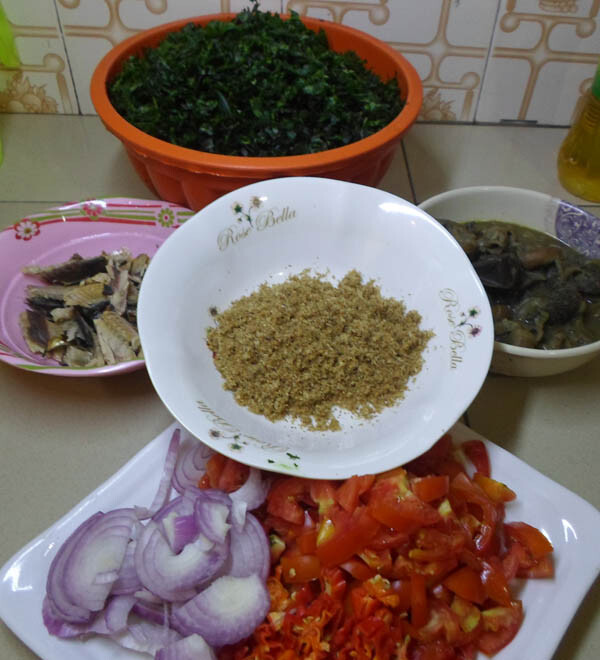 Set your cooking pot on heat, add 100ml of olive oil, allow to heat before adding the sliced tomato/pepper/onions. Allow to fry and dry for the next 10-15 minutes, remember to stir occasionally to avoid burning.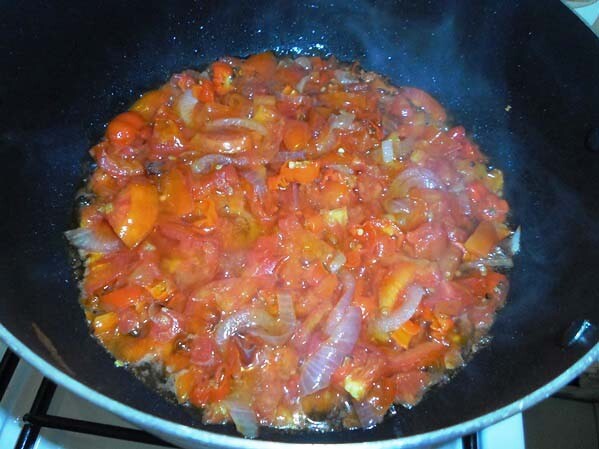 Add the cooked meat, remaining cube of maggi, roasted fish, salt to taste, crayfish and stir, allow to simmer on low heat for 3 minutes. Add the leaves (vegetables), stir properly and taste for salt, you may add another cube of maggi or knorr. Allow simmering on low heat for 3-4 minutes and you just made a delicious pot of vegetable sauce for rice.
Like I said earlier, this can be served with rice, beans or yam, I my case, I served with white boiled rice and added some fried plantain cubes.
Now My Comparative Analyses

Which do you really think is better, if you ask me, I would go for the vegetable sauce; not just because
it is easy to prepare, I find it very delicious and healthier than the alternative. Olive oil has also been proven to be healthier than groundnut/vegetable oil.
At some point, you will start knowing the different between this choices and how one differs from another. For me, it is not just about foods, they must be healthy too.
If you like, you can even omit the oil completely, just boil the meats, once it is soft, add the sliced tomatoes, pepper, onions to it, allow to cook together for 10-15 minutes, add the crayfish, roasted fish etc. As long as you are using fresh tomatoes, it would taste very nice.
Source: allnigerianfoods.com
1

 as needed Heinz Salad Cream

1 packages

 Romaine Salad Mix
Start the salad once eggs are cooked by slicing the eggs

Mix the romaine salad mix with all sliced ingredients

Top with salad cream

Source : cookpad.com
Preheat the oven to 425 degrees F.
Remove and discard the chicken giblets. Pat the outside dry. Liberally salt and pepper the inside of the chicken. Cut the lemons in quarters, place 2 quarters in the chicken along with the garlic and reserve the rest of the lemons. Brush the outside of the chicken with olive oil and sprinkle the chicken liberally with salt and pepper. Tie the legs together with kitchen string and tuck the wing tips under the body of the chicken. Place the chicken in a small (11 by 14-inch) roasting pan. (If the pan is too large, the onions will burn.) Place the reserved lemons and the sliced onions in a large bowl and toss with 2 tablespoons of olive oil, 1 teaspoon of salt, and 1/2 teaspoon of pepper. Pour the mixture around the chicken in the pan.
Roast the chicken for about 1 hour and 15 minutes, until the juices run clear when you cut between a leg and a thigh. Remove the chicken to a platter, cover with aluminum foil, and allow to rest for 10 minutes while you prepare the sauce, leaving the lemons and onions in the pan.
Place the pan on top of the stove and turn the heat to medium-high. Add the wine and stir with a wooden spoon to scrape up the brown bits. Add the stock and sprinkle on the flour, stirring constantly for a minute, until the sauce thickens. Add any juices that collect under the chicken. Carve the chicken onto a platter and serve with the lemons, onions, and warm sauce.
Ingredients
Directions
Prep 10 m

Cook 10 m

Ready In 55 m
Mix ground flax seed and water together in a small bowl. Let sit to thicken, about 5 minutes.

Mix flax mixture, black beans, panko bread crumbs, garlic, salt, Worcestershire sauce, and liquid smoke together in a bowl until combined. Form batter into 4 patties; arrange on a plate. Chill in refrigerator until set, about 30 minutes.

Spray a skillet with cooking spray; place patties in skillet over medium heat. Cook until browned, about 5 minutes per side.
Source : allrecipes.com