Yam Sauce With Vegetables
Ingredients For Yam Sauce With Vegetables
4 cups of sliced tomatoes
Fresh Peppers
Maggi or knorr cubes (2)
5 cups of sliced ugu (fluted pumpkin)
3 tablespoons of Ground crayfish
Salt to taste
Vegetable oil (10cl)
Start by preparing your ingredients. Wash and slice the leaves, tomatoes, peppers and onions.
The image below is a combination of sliced fresh tomato/pepperonions in a plate and sliced fluted pumpkin in another plate. I use some of this while making yam sauce. It would be nice to deep fry the fish after removing the center bone.
How To Make Sauce With Vegetables For Yam
Set your cooking pot on the burner, allow to dry then pour in about 15cl of vegetable oil, this would be enough for frying the fish and also for the main cooking. Allow the oil to heat for at least one minute before frying the fish for about three to five minutes, turn frequently to avoid burning, pick out the fish and set aside.
Transfer the sliced tomatoes/peppers/onions into the pot containing the oil and fry also for about five to ten minutes while stirring occasionally to avoid burning. Fry the tomatoes/peppers until it looses its sour taste due to frying.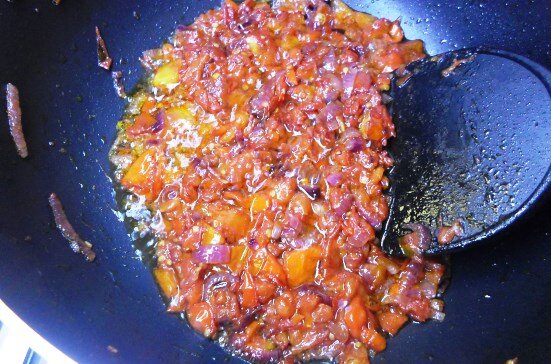 We are almost done with making vegetable-tomato sauce for yam.
Once you are done with frying the tomatoes, add a cubes of knorr or maggi. How does it taste?
Add salt to taste, ground crayfish, taste. Stir and add the vegetables after a minute or two.

Allow to simmer for another three to 3-4 minutes.
Serve with cooked white yam. We just made a pot of tomato/vegetable sauce which is used for eating yam as well as rice, beans and few other Nigerian foods.
Source: allnigerianfoods.com
Malawian recipes: grilled chambo fish
Ingredients:
1 oz. olive oil
1 tsp. turmeric
1 tsp. ground ginger
4 tsp. sugar
Small handful of raisins
8 oz. coconut milk
1 Tbsp. soy sauce
Lemon juice
Method :
Add olive oil to a saucepan. Then add turmeric, ginger, sugar and raisins. Put on a low heat to dissolve the sugar and infuse the spices. Remove from the heat, add coconut milk and whisk rapidly. Add a tablespoon of soy sauce and a dash of lemon juice. If the sauce seems a little thin, thicken with a little roux.
 Source: www.malawiheat.com
Salad Muffins Recipe for Pizza
Muffin salty pizza way!
Ingredients for 11 pieces:
180 gr of flour
1 sachet of baking powder
150 gr of white ham
10 cl of olive oil
10 cl of milk
100 gr of shredded
3 eggs salt and pepper (is not that a spice ???)
2 fresh tomatoes cut into small herbs de provence
some black olives
Preparation :
Preheat the oven to 180 ° C In a dish mix the flour and the yeast then make a well. In another dish beat the eggs with milk, olive oil and then pour this mixture into the flour. Mix then add about 50 grams of grated, then cut the ham into small pieces. Season with salt and pepper. Pour the dough into muffin molds and place on top a few dices of fresh tomatoes, grated, a pinch of Provence herbs and a black olive in the center. Bake 25 minutes (heat ventilated fifteen minutes then normal heat)
Fried fish, vegetable salad
For a table of 4
In your cart :
4 medium fish –
1 tsp chili – salt – pepper –
1 tbsp strong mustard –
1 fillet of vinegar –
1/2 cube broth –
2 tablespoons olive oil –
500g of potato –
2 tomatoes –
250g of onions –
2 feet of salad –
1/2 bunch of Chinese parsley –
1 tbsp honey 2 eggs
How to do :
Clean the fish and draw regular furrows.
Mix salt and chili, coat and cook in a frying bath.
Wash and cut salad, parsley.
Slice the onion, marinate a portion with mustard, vinegar, broth, honey, a pinch of salt and pepper.
Mix with tomatoes and potatoes cooked with water and cut.
Decorate with the boiled eggs.